VB-SEMIAIR CONTRIBUTES TO
DPD-Couriers 'AGF'
As one of Europe's leading parcel delivery services, with more than 260 million parcels delivered each year, DPD has a reputation as the most innovative carrier in the Express service sector. DPD also has a sister company 'DPD Local' in the UK, and both companies operate with franchise networks.

Business owner Andy Flear has been a franchisee of DPD for more than five years and has a fleet of five vans delivering to businesses and private individuals in the north west of England.
He also has a van that he uses to run his own special long-distance express delivery service under the name 'AGF Couriers'. This unique service runs at night, delivering to private individuals throughout the United Kingdom.
Most of us can expect to place an express order and have it at our door just a few hours later, all at the click of a button. What does a typical day look like for those who make this level of service happen?
"Our working day starts between 5 and 7 a.m. The first job of the day is to load up the vans with parcels. Our drivers have an hour to do this. Depending on the number of deliveries, they cover around 60/80 miles (95/125 km) a day. The number of deliveries can vary between 80 and 120 parcels a day, which adds up to a six to eight hour shift on average.
My private express courier service operates on a different model: for instance you might have to be get to a customer in the north of England at 3 a.m. in order to get this one-off shipment to Land's End at 9 a.m. the same morning."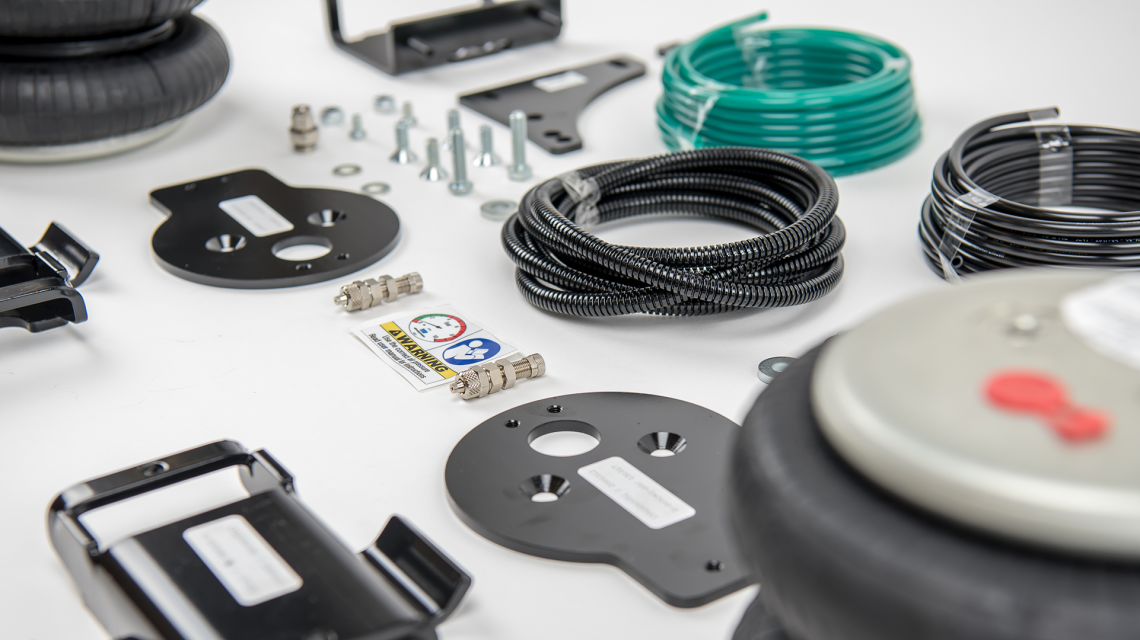 How did you come get to hear about VB-Airsuspension and, more importantly, what made you decide to switch to VB-SemiAir suspension?
"As a small business owner, I'm always looking for ways to be more efficient and better at what I do. Things like real-time tracking and text updates introduced in the past few years have made a big difference in terms of the shipping process.
A friend of mine had VB-SemiAir fitted on his pick-up and recommended VB-Airsuspension's auxiliary air suspension system to improve load management for my vans. I was immediately interested and positive about the potential for further improving my fleet of vehicles and vans."
"The vans feel much more balanced when driving. So, the greatest, most noticeable, improvement is in the steering and, in particular, that the van feels much more stable and responds better."
You have now had the opportunity to cover hundreds of miles with VB-SemiAir on one of your Ford Transits; has it met your expectations?
"Since we are delivering parcels, the load in the van is constantly changing throughout the day. We leave the depot with a fully laden vehicle and then the van gradually gets emptied during the shift. You are really aware of the changes in weight while you're out on the road.
The VB-SemiAir system controls are quick and easy to use so it's a simple matter to adjust the pressure in the air springs as the load decreases throughout the day. Having an auxiliary air suspension system allows our drivers to maintain the correct ride height and good weight distribution between the axles.

I also hope that the combination of semi air suspension from VB-Airsuspension – and an even parcel load – will help reduce wear and tear on the shock absorbers and tyres. I've noticed that the front tyres seem to hold the road better than when all the weight is resting on the rear axle."
Now you've got one Ford Transit with a VB-SemiAir system and one Ford Transit without VB-SemiAir, do your drivers say they notice which vehicle is fitted with a VB-Airsuspension system?
"In one word: yes! Clearly, they notice the difference most when the vehicle is fully laden. There would then normally be more weight on the rear axle and behind it. When the vehicle without semi air suspension is fully laden, the rear axle of the van is visibly lower, when seen from the outside.
Applying more pressure to the air springs using the VB-SemiAir system brings the fully laden van up to the same ride height at the rear as an unladen van. The van feels much more balanced when driving. So, the greatest, most noticeable, improvement is in the steering and, in particular, that the van feels much more stable and responds better."
"I was immediately interested and positive about the potential for further improving my fleet of vehicles and vans."
Your industry has gone through a big period of change due to Covid-19, with a huge surge in demand for deliveries from online shopping. What have you had to change and what did the 'new normal' look like after the pandemic?
"To be honest, there was a massive increase in demand and workload. A busy day 'before the pandemic' quickly became a quiet day 'after the pandemic'.
The maximum number of deliveries we handled before the pandemic was around 70/100 deliveries a day. If a driver had 100 deliveries, you'd joke saying 'he's really earning his keep today'. In the 'new normal', we are reaching 'centuries' every day! (maybe you've picked up on the fact that I'm a big cricket fan...)."
VB-Airsuspension is committed to meeting the requirements of new electric vehicles (battery electric vehicles, BEVs) and to supporting fleets with appropriate suspension systems for various work applications. DPD is also a leader in the sector in the transition to electric driving with more than 1,500 electric vehicles on the road every day of the week.
As a forward-thinking franchisee, are you tempted to go electric with your vans and fleet?
"Unfortunately, no matter how much I would like to go all electric, a couple of things are not in place as yet that would enable us to take that step. At present, the battery pack capacity would not be sufficient for us as we make a lot of deliveries in more rural areas where the 'stop-start' nature of the driving we do significantly reduces the promised range.
There is no charging infrastructure as yet if you're driving outside the bigger towns and cities. Alongside that, a further barrier is the price of electric vehicles, especially for franchisees like me who buy, maintain and insure their vehicles themselves."