THE HIDDEN SUPPORT DOING THE HEAVY WORK FOR
Electricity North West
Electricity North West (ENWL) is the electricity grid operator in the north west of England, with responsibility for more than 13,000 km of overhead lines and 44,000 km of underground cables. The company operates in cities, including Manchester, as well as rural areas like the Lake District.
ENWL operates a fleet of 750 vehicles used for a range of different jobs, where the emphasis is always on safety. The vehicles – Isuzu D-Max, Toyota Hilux and Opel/Vauxhall Movano – are all fitted with VB-Airsuspension systems improving performance, user comfort and vehicle safety.
Managing a fleet involves upgrading vehicles in various ways. How important are modified suspension systems for your vehicles?
"Extremely important. Our vehicles are used for all sorts of different jobs that change day by day, and regularly have to carry heavy equipment and materials. Our Opel/Vauxhall Movano vans are kitted out to enable our technicians to respond to incidents 24/7, and 365 days a year. As such, vans often carry electrical equipment and materials, and also have catering facilities on board.
Similarly, our Isuzu D-Max vehicles play a critical role for our arborists and engineers working on overhead lines. The air suspension gives us the added assurance that the vehicles are doing their job properly so that workers feel confident when pruning trees or working on high-voltage cables."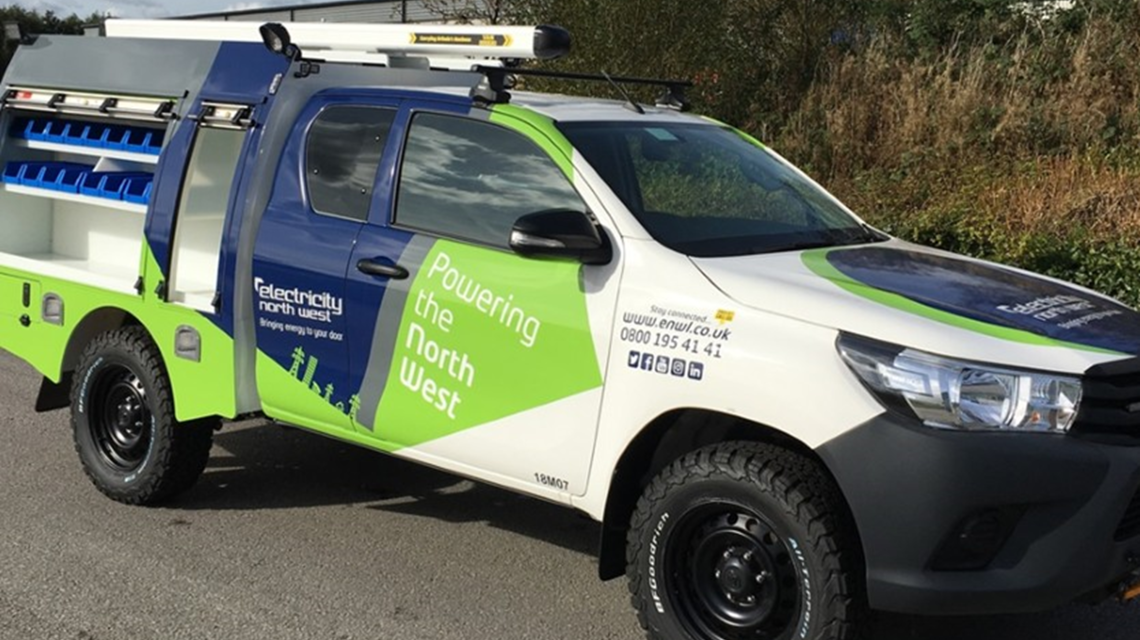 Vehicle payload and management of the load are key safety issues for Electricity North West. How did VB-LevelAir on your 4x4s and the VB-CoilSpring on Movano vans help with this?
"it's meant we can working much more efficiently. The fact that we can now carry extra weight means we can streamline projects better. Because, if we can get all the equipment for the job in just one van, we don't have to send two vehicles as we would have done in the past."
"SAFETY KEY FOR ELECTRICITY NORTH WEST - WE ALWAYS WORK TOGETHER AS A TEAM."
Reliability is key when it comes to product design at VB-Airsuspension, in particular to ensure that vehicles stay on the road and spend the least amount of time possible in the garage. Are you happy with how robust the VB-LevelAir system is? Does it meet ENWL's expectations?
"It has exceeded our expectations. The system is easy to maintain. Not only that, but we can also call on a large network of VB-Partners if needs be. Having semi air suspension has reduced the amount of time vehicles are off the road due to repairs, so we can get the maximum use out of them."
What kind of challenges can the fleet now meet that were not possible with standard vehicles, and how has VBA contributed to this?
"Without the suspension applications from VB-Airsuspension, some of our vehicle specifications would simply not be possible. Although we have to say that the challenges were far from minor."
Air suspension has certainly changed our vehicles for the better. The VB-LevelAir systems allow us to carry extra weight – a maximum permitted total weight of 3.2 to 3.5t – which is really useful. As a consequence, our vehicles are much more efficient when it comes to the bottom line.
The modified suspension systems also enhance the driving experience and reliability of our vehicles. Our teams are not always driving on tarmac roads. They often have to drive on uneven, unmetalled surfaces to get to places way off the beaten track in order to carry out works on the power network. Installing VB-CoilSpring means we can be sure that our vehicles can cope with any surface and any conditions.
"VEHICLE SUSPENSION SYSTEMS FROM VB-AIRSUSPENSION HAVE UNDOUBTEDLY ENABLED US TO BE MORE EFFICIENT, BECAUSE WE CAN NOW CARRY MORE EQUIPMENT."
both ENWL 4x4s use the VB-LevelAir suspension system. What advantages does this system offer for the operational functionality of these 4x4s and why is it preferable to the assistance system previously used?
"The VB-LevelAir system has greatly improved and simplified the vehicles for our drivers. As the system is controlled automatically, it is now not possible for the driver to make a mistake when adjusting the bellows pressure. The system is self-regulating – which is great for us.
But that's not all: when our arborists are working on trees, the semi air suspension system automatically adjusts the ride height for variable loads and then returns the vehicle to the correct height after the job is done."

How useful do you find the VB-DriveSafe function as a fleet manager?
"It's really great. There are many advantages, including the preventive safety feature that warns the driver when the vehicle is approaching the maximum permissible gross weight.
Clearly, this is a critical feature. Our drivers understand the weight that their vehicles can carry, and the importance of safety in this regard. Having semi air suspension not only enables us to carry more weight – in combination with the VB-DriveSafe function, we are also alerted when the maximum permitted weight is reached. So we can avoid overloading our vehicles, which was always a risk in the past."