Full air suspension is an automatic or adjustable solution to a (suspension) problem where the existing leaf or coil spring suspension is replaced by a full air suspension system. This system includes air springs, shock absorbers, height sensors, a compressor and an electronic control unit (VB-ASCU) and, depending on the make and model of vehicle, is available for both the front and rear axle. The air suspension system filters out unevenness in the road surface, improving ride comfort.
While driving, the vehicle will constantly remain at the ride height set by VB-Airsuspension during installation. The standard ride height is determined during the development of the air suspension and is fixed.
The ride height is the ideal height for comfort and stability. The driveability and stability of the vehicle are improved, which in turn increases safety. The access/loading platform height can be raised and lowered when the vehicle is at a standstill (in some cases with the handbrake on), allowing for easy vehicle entry/exit and for loading/unloading goods.
THE BEST SOLUTION FOR SUSPENSION PROBLEMS.
Our full air suspension systems offer:

A full air suspension system is often fitted to meet the following requirements. It:
Increases the ride height
Minimises sagging
Reduces vehicle roll
Improves suspension comfort
Improves driving characteristics
Increases safety
Improves stability
Control options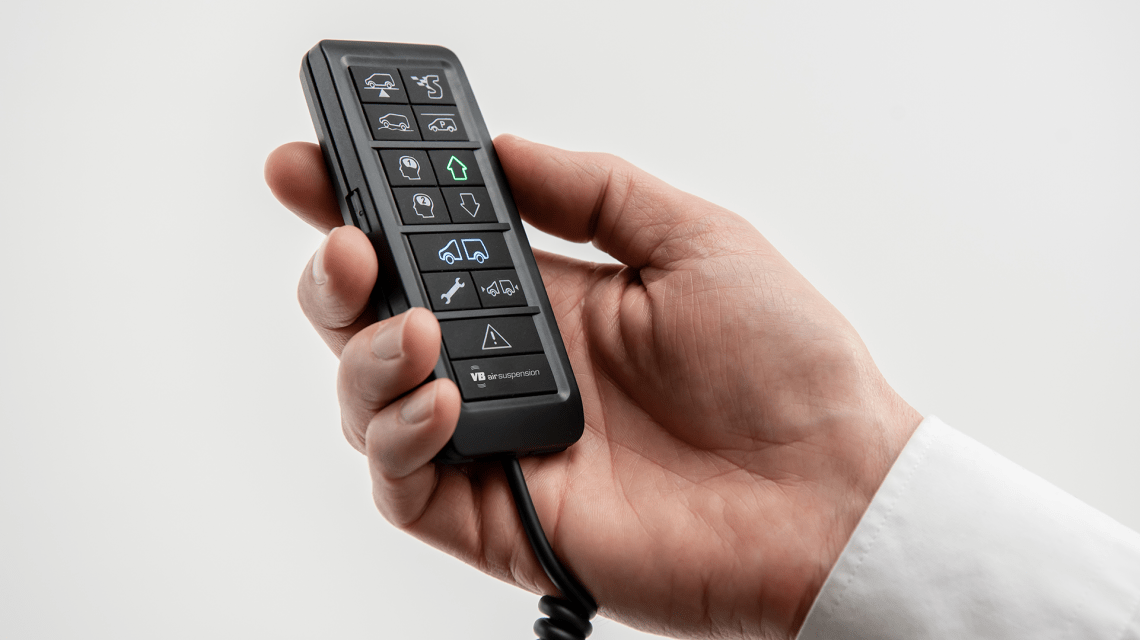 Extensive control options with: the VB-FullAir
The VB-FullAir, one of the VB-Airsuspension full air suspension systems, comes with a sophisticated remote control that can be used to easily operate all functions of the suspension system.

The benefits of a full air suspension system:
Control options
Constant ride height
Improved comfort
Optimum driveability
Increased stability
Comfortable ride for passengers
Improved protection for fragile goods
Less wear on tyres/brakes
FULL AIR SUSPENSION SYSTEMS:
DISCOVER THE PRODUCT RANGE
WANT TO GET A VB-AIRSUSPENSION SYSTEM FOR YOUR VEHICLE?
To be able to find an appropriate solution, it's important to establish which product can offer the right solution for your needs and/or the problems you are experiencing. At the same time, it's just as important to clarify what your expectations are.
Our easy-to-use Product Finder will help you select the right suspension or air suspension system for your needs. The Product Finder performs a search for your vehicle and will show the best solution for your specific make and model. That way, you can be sure the relevant solution is actually available for your vehicle.
Don't worry if you can't find what you're looking for with the Product Finder. No problem. Just get in touch with your nearest VB-Partner, who will be happy to assist you further.
THE RIGHT (SUSPENSION) SOLUTION FOR A RANGE OF APPLICATIONS:

Want to read more?
To read through everything again at your leisure, click on the button below to download the product information brochure and discover our product groups.